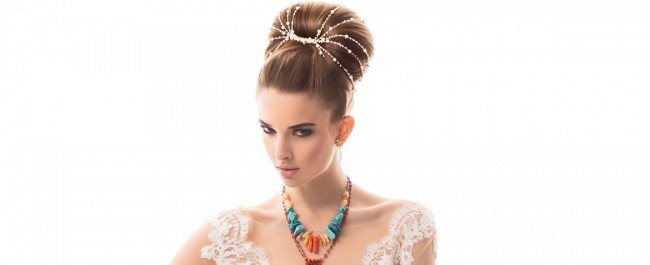 WEDDINGBELLS: Everything You Need To Know Before You Book A Wedding Hair Trial
By
If there was ever a time in your life when your hair needs to look flawless, it's your wedding day. Working with your stylist to achieve the perfect look needs to start a least a month before your big day and there are many factors that contribute to making your locks look their best. We went to Kirsten McIntosh from Revlon Professional for some tips on achieving amazing bridal hair.
When should a bride have her first hair trial and how many should she plan to have total?
"I recommend having a trial one month to three weeks in advance of your wedding day. This allows time to adjust the look and discuss the possibility of another trial if required. I generally find one appointment is enough for most brides."
What should a bride bring to her hair trial?
"Come well prepared for a trial date with the veil, extensions, hair jewellery and possibly the earrings you will be wearing."
What are some of your favourite wedding hairstyles?
"Currently I'm into looks that are very classy and chic. I love a three-dimensional-looking bun fastened at the middle-low back of the head with a soft side-part and finger waves for feminine details. I also love modernized looks from the 1940s, which are pretty, elegant and timeless."
Weddingbells is the modern, savvy, style-conscious bride-to-be's authority on all aspects of wedding planning. With inspiring ceremony and decor ideas, info on the latest bridal style trends and guides to the world's top honeymoon destinations, Weddingbells is where unforgettable weddings begin. The Ottawa Wedding show is a distribution partner for Weddingbells Magazine.