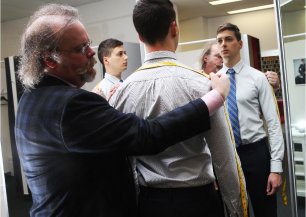 SURMESUR – A Personalized Shopping Experience
Surmesur, located at booth #517, is an original consumer concept offering a unique and personalized shopping experience in three easy steps.
Choose your fabric
More than 5000 choices of fabric for your shirts, jackets, pants, coats, ties, etc
Select your options 
With the help of our consultants, develop your style using our wide selection of options of all kinds.
They take your measurements 
Whether taken in the traditional way or by our optical scanner, they will keep all of your measurements for a guaranteed fit every time you visit!
Visit them at the show to learn more about this amazing concept!