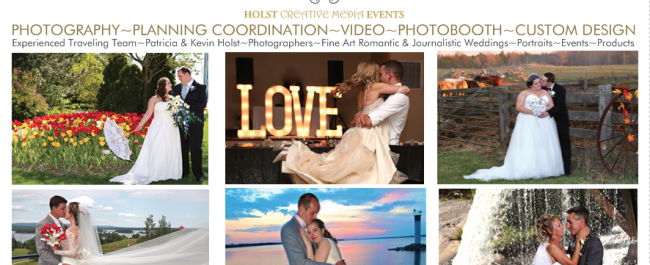 Holst Creative Media Events, Celebrating 25 yrs in Business by offering $500 Off!
Holst Creative Media Events, is a unique boutique company, owned by husband & wife team Patricia & Kevin Holst. We're Excited to be Celebrating 25 Years in Business! To Celebrate, we're giving all Customers who visit us at our booth 427, a $500 Off Discount Voucher on all Inclusive Wedding Packages!
We love to travel all over Ontario & Quebec to capture Weddings, and worldwide for destination Weddings! Patricia loves tea & dark chocolate and Kevin loves coffee & desserts.
We have a Unique Approach to Weddings – Our Passion Your Way, Storytelling Weddings for 25 yrs! We enjoy capturing love connections in fine art, romantic, authentic, journalistic style, nurturing creativity between subject & artist!
We provide inclusive wedding packages of two lead Photographic Artists, a Wedding Planner/Coordinator & Graphic Designer.
Need a Wedding Planner or Day of Coordinator? We can do that! Let us take the stress off you during your wedding, we plan your wedding details 6 months in advance. We plan the coordination of your wedding day timeline, 2 weeks before your wedding, so you can enjoy your day and have everyone prepared ahead of the wedding, emailed with a copy, with what the timeline is and what to expect on your wedding day. We execute your day of coordination, keep everyone on time while you enjoy your wedding, we also get the photographs taken as planned!
We also provide wedding highlights videos, animated slide shows, vintage studio photobooth services, where photos are taken by an engaging photographer, with props provided, (or use your own), with printing on site. We also provide large canvas wall art, heirloom flush mount albums.
Need something designed? We custom design invitations, thank you cards, promo products, print or embroidery on clothing, hats, t-shirts, polo shirts, pens, mugs etc, great for wedding parties, stag & does, baccalaureate parties! www.holstphotography.ca