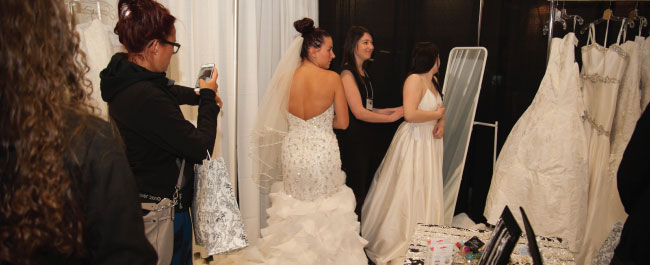 2015 Fall Ottawa Wedding Show makes Wedding Planning a Delight
October 28, 2015, Ottawa, ON – Prepare to fall in love all over again during the 2015 Fall edition of The Ottawa Wedding Show. Yes, two hearts can continue to beat as one while wedding preparations are in progress. From traditional weddings to totally off-the-wall weddings, everything that can be imagined – and maybe a few things that haven't – will be joined together in one location for two amazing days. The 2015 Fall Ottawa Wedding Show on Saturday, October 17 and Sunday, October 18 will be held from 11:00 a.m. to 5:00 p.m. each day. Ottawa's happy couples can expect an amazing program of events during this two day engagement located at the EY Centre, 4899 Uplands Drive, next to the airport.  
From wedding attire to honeymoon packages, options abound down every aisle for brides and grooms gathering wedding day ideas.  The Ottawa Wedding Show makes nuptial preparations much easier so couples can enjoy planning their special day.  "For this year's fall show, our fashion presentation tent will simulate the romantic atmosphere of a wedding reception area that will even include a small dance floor," said Ian Forsyth, Ottawa Wedding Show manager. "The Lionyls, a talented rock and soul band from right here in Ottawa, will provide live performances in the fashion presentation area during both days of the event.  With seating and refreshments available, the show will be a comfortable experience for both brides and grooms to be."
Elite Studios is sponsoring a series of five "first dances" throughout the weekend event in the fashion presentation tent, where visitors will also find pop-up fashion boutiques from All That Glitters Bridal Boutique, Luxe Bridal Salon, Ashton Station Bridal, Dominique Levesque Bridal, and The Handmade Bride. Marianne's Boutique will also be on hand with their unique blend of lace, sequins, pearls, silk, and other complementary embellishments to make a wedding day special.
Other weekend activities will include cake displays presented by Claude's Wedding Cakes, Bake Mob and Edible Sins, as well as a beauty room for brides-to-be and two wedding ceremony displays. Renowned wedding officiant of Canada, Dr. Alan Viau, is also scheduled to speak.
Tickets for The 2015 Fall Ottawa Wedding Show can be purchased beforehand online, or at the door .
For more information, to book an interview, or for high resolutions images, please contact Jo Riding at Karma Creative Solutions.