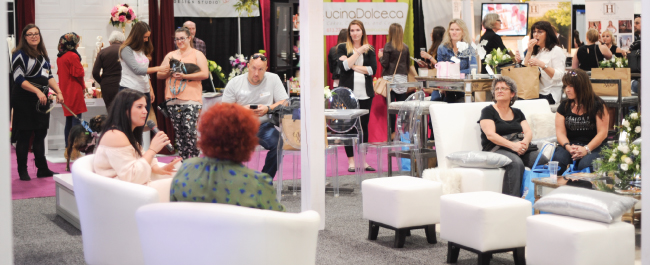 Why go to a Wedding Show?
For most, Sunday is a day of rest. Its a time to be with family and friends, or just relax by the fireplace – especially at this time of the year. Its your only day off during the week and you really don't want to spend it among hundreds of excited brides or fighting off some annoying vendors at a Wedding Show or venue Open House. Right?
…well if you're planning your wedding, spending time at a wedding show just may be the most productive and profitable use of a Sunday afternoon. So, as you consider staying inside on the weekend or braving the cold to take in a wedding show, here are a few reasons why you should attend the show.
To meet vendors
Thanks to the proliferation of wedding blogs and social media platforms like Pinterest and Instagram its easy to do some research online in the comfort of your living room. But submitting an inquiry form or leaving voice messages in the hopes of a return call, can get frustrating and feel very impersonal. Attending a wedding show however, will give you an opportunity to meet face-to-face with potential wedding vendors to make sure that you not only like their work, but they are people you will enjoy working with.
To get advice and share ideas
Many wedding shows have experienced professionals scheduled to share advice with couples about their area of expertise. Couples can hear about some unique elements they might consider adding to their celebration and things that they might want to eliminate from their Special Day (i.e. The garter toss!) The areas cover the entire gambit of the wedding process including the ever-changing trends in the wedding industry.
To save money
Most vendors at a wedding show offer "show discounts", so why not take advantage of the opportunity to save some money – especially if you were going to book with them in the first place!
To win prizes
Many vendors offer couples the chance to win all sorts of prizes when they visit their booths. There's one catch however – you can't win if you don't attend the show.
For those brides who question the value of attending a wedding show, your fears of being accosted by a pushy vendor might be holding you back from finding that one great vendor you've been searching for.
So, brave the cold and press out on Sunday afternoon to your local wedding show because a well-organized wedding show is the place where you can see, taste, smell, feel and hear your wedding day! So, we'll see you there!
Written by Jim Emerson
ENDURING PROMISES
www.enduringpromises.com
Enduring Promises is a trusted group of award-winning wedding Officiants who have the experience, expertise, resources and passion to help reduce the stress of creating your personal, engaging and memorable wedding ceremony at the location of your choice.