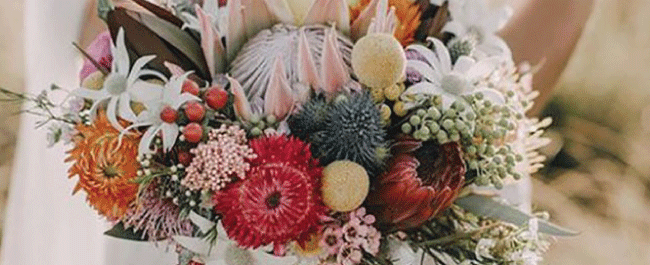 Weddingbells: Wildflower Bouquets For Every Type Of Wedding
If you're dreaming of a rustic affair in the countryside for your wedding day, then there are no better flowers for your bouquet than those of the wild variety. From daisies to asters and everything in between, wildflowers are the best way to showcase your free-spirited and laid-back wedding style without breaking the bank. And with so many colours, shapes and sizes to choose from, your bouquet will be anything but boring. Ask your florist to toss together a wide variety of wildflowers for a colourful and textured look, or pick them yourself and for a fun DIY project.
The best part about wildflowers is they can suit a wide range of celebrations while conveying a look that's a little more relaxed than your average rose-on-rose arrangement. With lilies, anemones, protea, and all the gorgeous varieties available in Canada, there's no need to look anywhere else but the great outdoors for your bouquet! Check out a few of our favourite arrangements below to get some inspiration for your wildflower bouquet.
Weddingbells is the modern, savvy, style-conscious bride-to-be's authority on all aspects of wedding planning. With inspiring ceremony and decor ideas, info on the latest bridal style trends and guides to the world's top honeymoon destinations, Weddingbells is where unforgettable weddings begin. The Ottawa Wedding show is a distribution partner for Weddingbells Magazine.