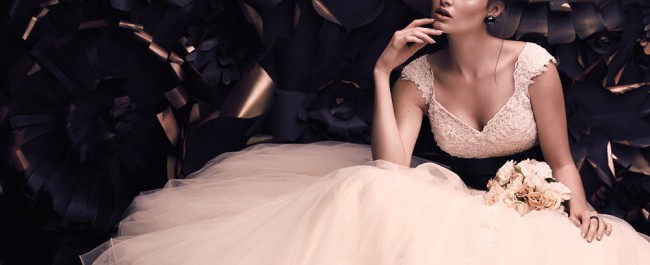 Weddingbells: Statement Wedding Gowns For The Ultra-Fashionable Bride
If you want to be a style standout on your wedding day, choose a dress that's anything but traditional. Step away from classic white and instead opt for warm tones of butterscotch, rose gold and black to create a red-carpet-worthy look. Pair your non-traditional wedding gown with bold, unconventional accessories and you're guaranteed to make a statement during your walk down the aisle.
Photography by Chris Nicholls. Styling by Tara Williams. Hair by Tony Masciangelo, The Alcorn/P1m.ca. Makeup by Grace Lee, lead makeup artist, Maybelline New York Canada/Plutino Group. Nails by Leeanne Colley, Tips Nail Bar/P1M.ca. Set design by Caitlin Doherty, P1M.ca. Editor, Alison McGill.
Weddingbells is the modern, savvy, style-conscious bride-to-be's authority on all aspects of wedding planning. With inspiring ceremony and decor ideas, info on the latest bridal style trends and guides to the world's top honeymoon destinations, Weddingbells is where unforgettable weddings begin. The Ottawa Wedding show is a distribution partner for Weddingbells Magazine.