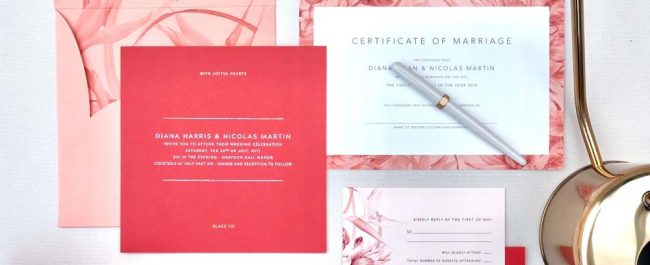 Weddingbells: Expert Advice For Designing Unique Wedding Stationery
Wedding stationery is an important detail that shouldn't be overlooked. From the moment your guests open their invitations to the signage and menu cards they'll see on the day-of, your stationery sets the tone for your celebration and ties your wedding theme together.
We've seen some seriously gorgeous wedding stationery, and one of our favourite companies for luxe craftmanship and whimsical designs is Ferris Wheel Press. Tackling one of the hottest colour trends for weddings this year, their pink and red wedding stationery takes personalization to a new level.  The brand's deconstructed place card are particularly cool, doubling as packaging for petite wedding favours.
Weddingbells is the modern, savvy, style-conscious bride-to-be's authority on all aspects of wedding planning. With inspiring ceremony and decor ideas, info on the latest bridal style trends and guides to the world's top honeymoon destinations, Weddingbells is where unforgettable weddings begin. The Ottawa Wedding show is a distribution partner for Weddingbells Magazine.