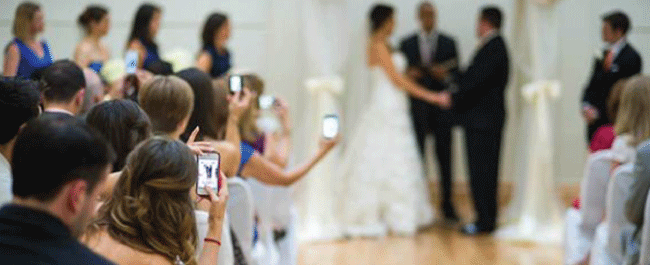 Weddingbells: 5 Important Social Media Guidelines For Your Wedding Day
Social media has taken the wedding world by storm. Wedding vendors are now reaching out to potential clients through mediums such as Instagram, Facebook,Twitter and Pinterest, while brides are creating wedding day wishlists of ideas and sharing them with other brides-to-be. This increased use of social media for wedding idea-sharing has definitely raised the bar for uniquely-personalized celebrations.
While social media is a great tool for wedding planning, it can also be a source of frustration for brides once the wedding day rolls around. Your guests have the ability to share the details of your big day with their social followers instantly without your consent and the broadcasting of an unflattering photo or detail you would have rather kept private can sometimes be upsetting.
Although most guests will understand your desire for a more private celebration, you can't expect everyone to know your preference. For that reason we've put together a set of wedding social media guidelines for you to consider. Decide how much of a roll social media will play in your celebration beforehand and share these guidelines with your guests before the big day.
Weddingbells is the modern, savvy, style-conscious bride-to-be's authority on all aspects of wedding planning. With inspiring ceremony and decor ideas, info on the latest bridal style trends and guides to the world's top honeymoon destinations, Weddingbells is where unforgettable weddings begin. The Ottawa Wedding show is a distribution partner for Weddingbells Magazine.