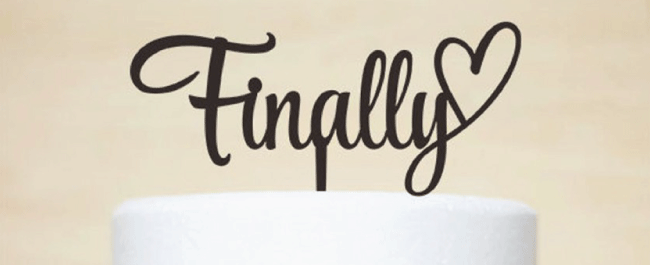 Weddingbells: 5 Cake Toppers That Will Instantly Make Your Wedding Dessert More Awesome
Sometimes it's the little wedding details that are actually the most memorable; case in point: cake toppers.
A really cool topper can transform even the most humdrum dessert into an Instagram-worthy wedding accent – this is especially good news if you don't have a massive budget. Order a few simple cakes from your local bakery and, for under $100, you can snap up a cool conversation piece that will become the focal point of your sweet table.
Now, just to be clear, if you're in the market for an awesome cake topper you'll want to avoid those played out bride and groom figurines you've seen at a zillion other weddings. Instead, set your sights on quirky animals, cute sayings and oversize DIY accents, all of which are sure to take your wedding cake to the next level.
Weddingbells is the modern, savvy, style-conscious bride-to-be's authority on all aspects of wedding planning. With inspiring ceremony and decor ideas, info on the latest bridal style trends and guides to the world's top honeymoon destinations, Weddingbells is where unforgettable weddings begin. The Ottawa Wedding show is a distribution partner for Weddingbells Magazine.