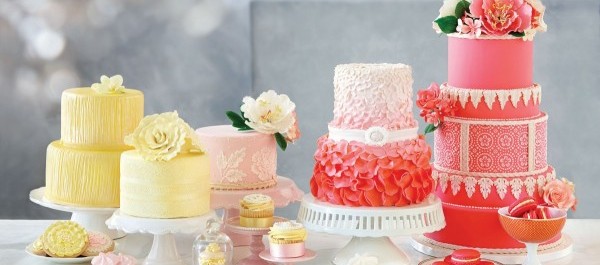 Weddingbells: 10 Questions Every Couple Should Ask Their Cake Designer Before Booking
You've picked a date, booked the venue, found the dress and now comes the fun part: choosing the cake. Thanks to Pinterest, finding the right cake design has become a whole lot easier. Finding the right vendor to create your dream confection can be a bit trickier. To help you navigate the waters, we've drummed up a list of 10 questions you should ask every cake designer before officially booking them.
1. ARE THEY LICENSED?
Before you fall in love with your cake designer, you need to ensure that they are properly equipped with the right documents. Most wedding venues require a fully-licensed cake designer to bring in a wedding cake, so before you make the decision to hire someone, be sure to ask for some identification so you don't run into this speed bump down the road.
2. WHAT KIND OF CAKES DO THEY SPECIALIZE IN?
Like art, some bakers will only specialize in certain mediums. In cake terms, this could mean buttercream versus fondant. Before you book an appointment, do some research on your potential cake makers. Check out his or her website and social media accounts — this should give you an idea of personal style and area of expertise. If they're not web-savvy, ask to see photos in person. Make sure you are hiring a cake designer whose specialty matches your wedding style.
3. WHAT'S THE STARTING PRICE?
Not all wedding cakes are priced the same. Some creations may be more labour-intensive. So, before you book, ensure that you ask your cake designer what the starting cost is per slice.
Weddingbells is the modern, savvy, style-conscious bride-to-be's authority on all aspects of wedding planning. With inspiring ceremony and decor ideas, info on the latest bridal style trends and guides to the world's top honeymoon destinations, Weddingbells is where unforgettable weddings begin. The Ottawa Wedding show is a distribution partner for Weddingbells Magazine.