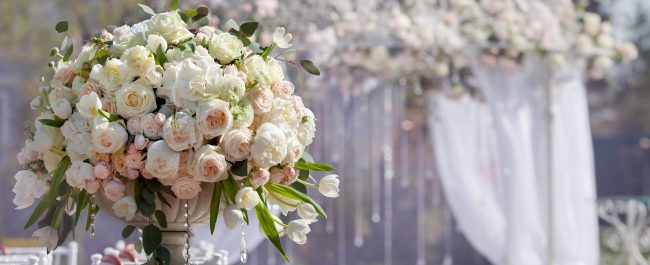 Wedding Shows Are Fun…If You're Prepared
As we begin a new year, you can count on two things; marriage proposals and wedding shows. Attending a wedding show can be a very positive way to spend an afternoon, but it can also be sensory overload. So, here are some suggestions to help you get the most out of your visit to a wedding show:
Have a Game Plan
Before attending a wedding show, make a list of the wedding services you need, and an estimated budget for each of them. This will help determine which vendors are within your price range and worth spending your time conversing with.
Do Some Research
To save time during your visit to the wedding show, do some research to familiarize yourself with the vendors who will be exhibiting. All shows post a list of participating vendors on their website so check them out to see their work, prices, reviews and get an idea of who may fit your budget, vision and style.
Purchase Your Tickets in Advance
Skip the line and save! Admission tickets will be less expensive if purchased online rather than at the door. Check the show website to see if it's offering discounts or connect with an exhibitor you may have already spoken with. Follow the vendors on social media who you are interested in meeting for contests featuring discounted or free tickets.
Take a Friend
It's always a good idea to bring someone along with you. Invite your bride tribe, mother, planner, and yes, even your future mother-in-law to join you. They can help you spot the perfect dress, help you register for all the raffles and keep you on track as you navigate the show. Also, don't hesitate to invite your fiancée so you can begin to visualize how you day will look together while enjoying the champagne and chocolate.
Book Your Vendors
Sarah Wong of www.andalwaysevents.com, suggests that, "With so many exhibitors you may only get a few minutes to speak with each one. If they are available on your date, ask what their one piece of advice is for a newly engaged couple. It may be love at first sight, or you may want to get to know them and their services a little better. Either way, sign up for their promo list to keep in touch to get the inside scoop on their latest deals. Many will offer promotions just for attending the show, but dates will book up quickly."
Take a Photo
Over the course of the day you will speak with dozens of wedding professionals, so it will be easy for them to all begin to blend together. If you really like a particular exhibitor take a photo of their booth so you'll remember their name and your conversation.
Create a Label and Wedding Email
Print labels with your name, wedding date, venue and wedding email. Labels will save you significant time when signing up for contests and promos. If you haven't done so already creating a wedding email address will help you organize your wedding planning in one place, so you won't lose important information.
Wear Comfortable Shoes
Most shows have dozens of wedding vendors, and the last thing you want to worry about is how much your feet hurt. Being comfortable will help you to enjoy and explore the entire show. If you plan on trying on any dresses remember to take your bridal shoes with you.
Enjoy, Enjoy, Enjoy
There will be some of the best wedding professionals in your area exhibiting at the show. Each one will be happy to answer your questions and assist you with making your wedding day a truly memorable and joyous celebration. So, follow these suggestions and your visit to the wedding show will be informative, productive and most of all enjoyable!
About the author: Jim Emerson
Jim has helped over 1,100 couples reduce the stress of creating and celebrating their personal, unique and memorable wedding ceremony. He is a husband, father, author, triathlete and passionate about his family and his work. See some of Jim's online reviews and contact him through Enduring Promises. He'd love to hear from you.
The author wishes to thank Sarah Wong for her input and contribution to this post. For more information about Sarah's services visit her website or follow her on Pinterest or Instagram.