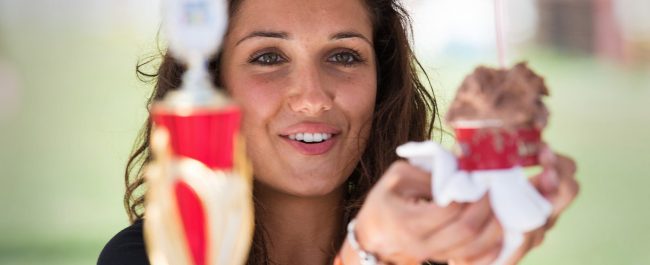 Vintage Gelato Cart with Award-winning Gelato
Recently awarded Best Gelato in Canada and the prestigious International Journalist's Award for Best Gelato in the World at the Gelato World Tour in Italy, Stella Luna's Vintage Gelato Push-cart is a unique addition to any celebration, adding an element of playfulness, romance and elegance.
Whether you choose to serve gelato as your main dessert (a refreshing treat after a filling, formal dinner), or to compliment the dessert bar, or perhaps during the cocktail hour to welcome guests with refreshing treats like Strawberry & Champagne Sorbet, Virgin Mojito Sorbet or Raspberry Daiquiri Sorbet, Stella Luna's Vintage Gelato Push-cart is always well received!
Give your celebration a touch of old-fashioned romance with Stella Luna Gelato!
Drop by BOOTH #912 to speak with Master Gelato Chef and founder, Tammy Giuliani have a sample of world-class gelato or visit one of our Ottawa locations at 1103 Bank Street just south of Lansdowne in Old Ottawa South or at 1130 Wellington Street West in Hintonburg.
Website: http://www.slgelato.com/
Facebook: @stellalunacafe
Twitter: @stellalunacafe
Instagram: @slgelato