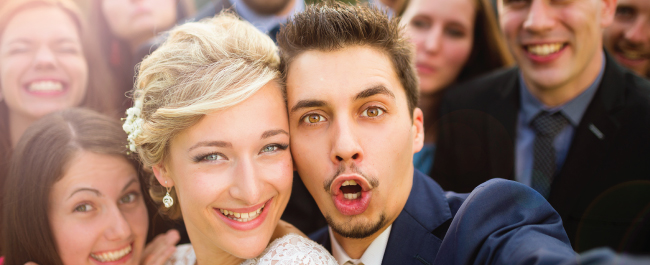 Toying with Tradition
Weddings can be an odd blend of tradition and personalization. You want to respect the institution and family customs, while still adding your own personal flare and making sure you enjoy the day. It is sometimes difficult to decide where to draw the line.
Whether your wedding will be big or small, if you are looking for some ways to streamline the process, here are a few ideas of when it may be acceptable for you to tell tradition to take a hike!
#1 Pass on Paper Invitations – It is traditional to send out paper invitations to all of your guests six to eight weeks before the wedding, usually accompanied by an RSVP card. Why not save the trees, skip the paper, and send digital invitations instead! It's increasingly difficult to find someone who doesn't have access to email these days. There may be some exceptions who require a snail-mail invitation, but the majority of people can receive and RSVP to an emailed invitation. Digital invitations are easier for you, your budget and the environment!
#2 Throw Away Throwing the Bouquet – We've all seen it in some wedding movie or other – the happy bride throwing her bouquet into a group of her screaming girl friends. But your bouquet is so beautiful (and potentially expensive), you shouldn't have to give it up if you don't want to. In fact, more and more brides are finding creative ways to dry and keep their wedding flowers. This way you can have a beautiful décor piece that will always be a wonderful reminder of your big day.
#3 How About BridesBoys and GroomsGirls? – The tradition is right there in the names – Bridesmaids and Groomsmen. It is traditional for the Bride to have women attendants and the Groom to have men. Some Brides find this arrangement restricting and a little old fashioned. Whether it's all women, all men, or a mix of both, you should have whoever you want as your attendants. BridesMAID and GroomsMEN are just names, not rules. Feel free to mix it up!
Remember that it is your wedding day. You can keep the customs and traditions that work for you and discard the ones that don't. Enjoy!