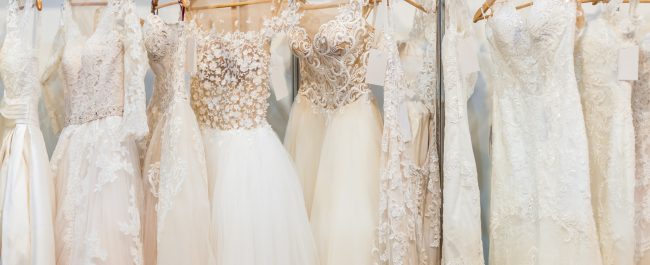 The Fabric of a Wedding…Dress
Weddings are huge! There are so many components and details to keep in mind when planning the event. It's easy for things to get overlooked or forgotten with so much going on.
Something important that we don't feel should ever be overlooked in the Bride's comfort on the big day. This involves getting the right type of footwear, staying hydrated and, of course, a correct fit for the dress. But sometimes people forget that the fit of the dress isn't all that matters – it's also important to look at what the dress is made of. The fabric of the dress can make a huge different to the comfort of the Bride on the wedding day.
There are a few things to consider when looking at dress fabrics:
Is there anything your skin is particularly sensitive to?

You don't want to be walking down the aisle and suddenly have your skin start to itch or sweat. For example, tulle (you know, the kind of material a ballerina's tutu is made of) is light and airy, but can be slightly itchy. If you have sensitive skin you may want to consider another fabric, or at least putting something between your skin and the tulle.

What time of year are you getting married? Will it be hot? Cold? Indoors? Outdoors?

You want the fabric to help keep you the right temperature as well as look appropriate for the season. A light, breezy fabric may look out of place in February. Different fabrics have different levels of insulation. Satin, for example, is one of the heavier fabrics and can provide you with more warmth – ideal for a winter wedding. Organza, on the other hand is sheer and lightweight. It won't provide much protection, but would look and feel ideal in the middle of summer.

Also, what style of dress do you want?

Certain fabrics are better suited to create certain designs. Chiffon is a beautiful light weight fabric. However, because it is so delicate it would be difficult to make a larger, more structured dress out of it. Instead, chiffon would be ideal for creating a flowing, unstructured gown for a beach wedding!
If you take a little extra time at the start to consider these details your wedding day will be that much more comfortable and under control. Then all you will have to do is enjoy!