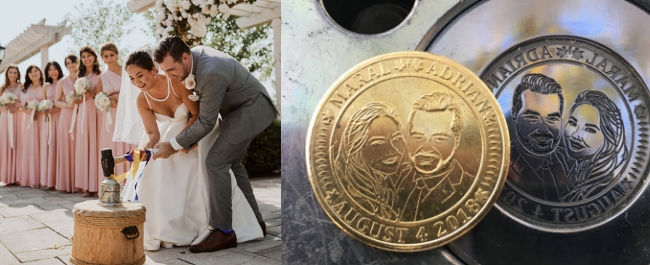 Strike Your Custom Wedding Coin during your Big Day
Located in Ottawa, Ontario, Strike Your Coin is a company that specializes in creating one-of-a-kind wedding favour coins for your big day. Imagine having your wedding guests be able to create their own little keepsake by striking their own wedding coin (with your pictures and names on the coin) with a sledgehammer in the traditional way coins were minted centuries ago.
Your custom coins may include:
– Names & pictures of the wedding couple
– Wedding date and location
– Your special quote
– Any text or image you wish
We offer 2 packages:
Strike Your Coin at Your Wedding package:
– Custom design for both sides of the coin (we may put any picture or text on the coin);
– 2 custom dies (moulds) with your coin design;
– 100 coins in acrylic capsules;
– 1 wooden box for keeping 2 dies and 2 coins. This box can be kept as a memory by the couple, you can hang it on the wall next to your wedding photos;
5 velvet boxes for storing one coin;
– 'Strike Your Coin' service. We arrive at your wedding venue with our minting press and sledgehammers and entertain your wedding guests by letting them strike your custom wedding favour coin (3-5 hours).
We also offer the Pre-minted coins package. These coins look just like real coins as they are machine minted. We deliver the coins to you before the wedding and you can distribute the coins with your custom design among your wedding guests. Check other photos and videos at our site https://strikeyourcoin.com/
When you visit our booth # 616b during Ottawa Wedding Show, you will have a chance to strike a sample coin yourself.