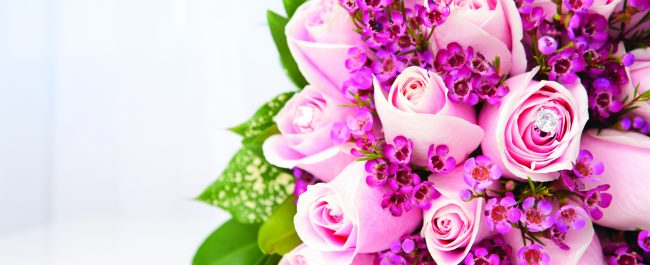 Say 'No'-ses to the Roses
Just because it's how something has been done in the past doesn't mean it's necessarily right for you. Brides everywhere are beginning to break away from old traditions and starting to create their own. Your wedding should reflect you and your partners personalities and tastes – it's your day after all!
One of the changes more commonly seen is no flowers. Tonnes of flowers at a wedding has been a staple for ages, almost as much as the big white dress. But flowers aren't to everyone's taste – not even getting into the whole issue of allergies. Fear not! There are lots of other, equally gorgeous ways to decorate your wedding space without having a single rose or lily in sight.
Ribbons and Banners. One of the things flowers brought to a wedding day was colour. Fortunately, there are lots of other (potentially cheaper) alternatives for achieving the same impact. With ribbons and banners, you can choose from all the colours in the rainbow. They're easier to arrange and set up than flowers and with a banner you can even incorporate a message!

Greenery and Branches. You may like nature, just not the flower part. If that sounds like you then lots of greenery is a great option! Ferns, leaves and vines can create a lovely, lush, outdoorsy look while maintaining a subtle, soothing colour palette. Add in some birch tree branches for height or some quince branches for texture. Your wedding décor will have a quiet elegance that is totally on trend.

Balloons and Confetti. It's time to embrace your inner child! Who says weddings need to be subdued and serious? Liven things up with colourful balloons, streamers and even some biodegradable confetti. Pair these decorations with games and a photobooth for your guests and you can have your own personal carnival!
In the end it doesn't matter what you decide, just as long as it makes you and your partner happy. It's your wedding and whether that means flowers up to the ceiling, only in your bouquet or none at all is entirely up to you!