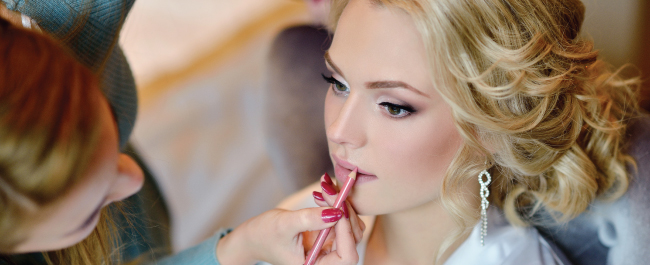 Managing the Makeup
Whether you are doing your own or hiring an artist, your wedding makeup deserves some extra attention. It can be more involved than your day to day makeup routine. You'll have to choose makeup that fits the day, fits your dress and (most importantly) fits you!
Here are some steps to take that will help you tackle your wedding makeup with ease:
#1 Research It: Magazines, Instagram, Pinterest – these are all great places to start. Compile a collection of images with makeup styles that speak to you. If you've hired a makeup artist they will thank you for the references! And if you are doing your own makeup, it will give you a guideline to work off of.
#2 Practice It: Again, doesn't matter if you hire a professional or are doing it yourself – practice is key! If the colours aren't right or the style doesn't look as you imagined it would, now is the time to make changes. Set aside some time to sit down with some YouTube tutorials and practice or set up a makeup trial session with your artist. Smooth out all makeup issues before the wedding so you're not stressing out on the actual day.
#3 Secure It: Something many makeup artists would recommend for wedding makeup is to buy or borrow some setting spray! Wedding makeup needs to be durable and long lasting (especially for those Brides who will be having their wedding outside). There are some great setting sprays out there. Some brands to check out are Cover FX, Urban Decay and E.L.F. Give your face a thorough spritz after you've completed your makeup, allow it to dry, and your makeup will be locked down for hours and hours!
Stay calm and plan ahead and there is no doubt your makeup (and you!) will look beautiful. Have fun!