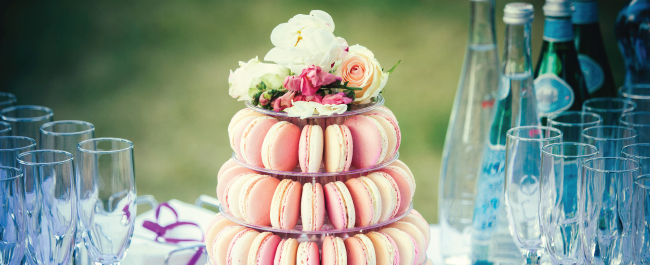 Let Them Not Necessarily Eat Cake
Are you one of those rare creatures that doesn't like cake? You're not alone. Many of us out there are not cake fans. Normally this isn't an issue – we all have different tastes. However, some Brides can find this challenging when it comes to planning their wedding. Wedding cakes are almost expected. Even the tradition of the newly-weds cutting the cake together is common place. So, what about the Bride or Groom who doesn't like cake? This is your wedding and it should be a day that you get to enjoy – even (and especially) when it comes to the food!
Fortunately, over the years, Brides have been experimenting with wedding cake alternatives. It can be a lovely part of the reception to have a communal dessert for everyone to share. But no where is it written that the dessert must be a cake!
Pies or tartes can be a great option. Instead of one large cake, try multiple pies or tartes of different flavours! That way, everyone can get a taste of something they like.
Cookies can be beautifully arranged and made in all kinds of different styles and flavours. Plus, it's extra easy to figure out how many cookies to get. One or two per guest and you're all set!
If you don't have much of a sweet tooth – have you ever considered a 'cheese' cake? And not a New York Style Cheesecake, stacked wheels of different cheeses! Serve with fruit and you'll have a delicious, elegant, yet quirky alternative to all that icing.
Get creative and incorporate whatever desserts you want into your wedding. With so many delicious options it's almost impossible to make the wrong choice. Just make sure to hide away some leftovers for the next day – YUM!