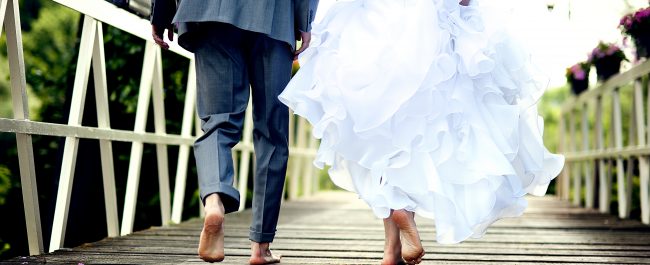 Destination Weddings, Eh?
It sounds so romantic – whisking off with your fiancé on a wonderful trip to see the world. To many, that sounds like a Honeymoon. But, for an increasing number of couples that is their wedding description!
Destination weddings are becoming more and more popular. Couples are embracing the smaller guest lists and the idea of a simple ceremony, and destination weddings are a wonderful way to achieve that while still getting some fantastic fantasy and excitement on your big day.
Often when we hear 'destination wedding' we think of somewhere warm and sunny, like the Bahamas or Jamaica. While those are lovely locations, sand and sun isn't your only option. Generally speaking, a destination wedding is any wedding that takes place 100 km or further away from the bride's home.
Especially in Canada, this means you don't even have to leave the country! We are blessed to live in a land that has a huge range or destination options. You and your guests won't even need a passport!
What about heading west to snowy Banff for a beautiful winter wedding? Or fly out east to P.E.I. for a quaint country ceremony? Up north is chock full of stunning forest, perfect for a rustic themed wedding. And don't forget down south to Niagara Falls full of fun and incredible vineyards. There are fantastic destination wedding options for every point of the compass!
Maybe we don't need to be so quick to jump on a plane and leave the country. We have so many terrific wedding location options right here at home. Embrace that Canadian spirit, explore the country we all love and offer your business to your fellow Canadians – all wonderful reasons for choosing the Great White North for a destination wedding. We're not suggesting a full Canadian-themed wedding…although now that we think about it, maybe we are! Poutine for the main course, anyone?