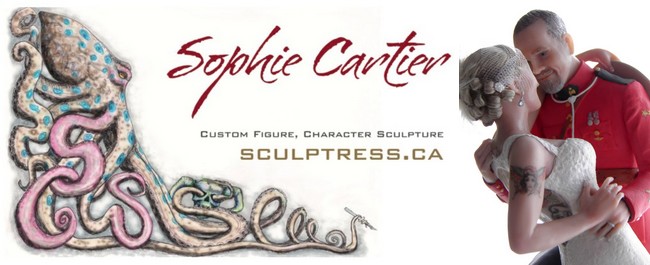 Custom Wedding Cake Topper & Figure Sculptor
I craft one-of-a-kind custom wedding cake toppers. My custom sculptures
are made of polymer clay, armature, acrylic paint and other media. My
works are high quality art pieces, created with a lot of care for the
tiniest details. I ensure your vision is matched in high realism, with
special attention to facial features, hair, proportions, unique traits
and accessories.
Custom orders for one-of-a-kind concepts can be booked on site.
A selection of special completed works also for sale on site!
New service offered to Cake Shops by pre-order for the upcoming Wedding
Season!
See you soon @ booth 622B!
https://www.facebook.com/Sculptress.ca/
Instagram @ Sophie Cartier Sculpture
Payment accepted through Square!