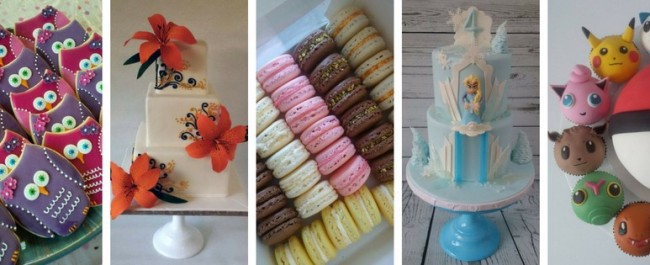 A Cake by Cucina Dolce.ca is a Dessert Dream Come True!
Cucina Dolce.ca Cakes, Cupcakes, and Cookies provides made-from-scratch custom desserts for your wedding, rehearsal dinner, or bridal shower, all from the kitchen of cake artist, Jayne Argentina. Jayne is an elite baker and decorator, and can make your wedding dessert dreams come true, whether you are looking for an intimate dessert table of cake pops and French macarons, a decorated cookie favour as a sweet treat for guests, a delicious buttercream-frosted cake for your rustic event, or an over-the-top confection as a centrepiece for your glamorous affair. Jayne is well-versed in swiss buttercream textures, fondant finishes, metallic accents, and all types of florals, from gumpaste to wafer paper. Your wedding desserts MUST taste as incredible as they look, and they can be created in flavours like vanilla bean, double chocolate fudge, apple cinnamon, lemon curd creme, and so many more!
Visit Jayne at booth 916A, and come and see what a little couture sweetness can do for a wedding! Don't forget to enter into the draw to win $100 toward the purchase of your wedding cake or dessert!
For more information about Jayne Argentina and recent projects, please visit www.cucinadolce.ca, facebook.com/CucinaDolceca , or instagram user @cucinadolceca .