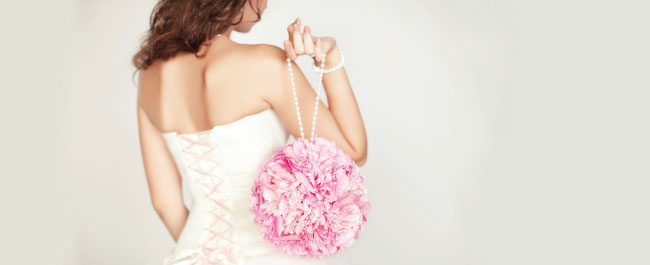 2015 Wedding Trends for Bouquets and Flowers
Brides in 2015 are choosing dramatic fresh-from-the-garden floralscapes for their weddings. Seasonal flowers, wildflowers and green foliage, as well as fruits and other edibles have been the growing trend this year. And these arrangements are being exhibited in very interesting ways – from wearables to backdrops.
Some of the favorite displays this year include roses, peonies, dahlias, ranunculus, hydrangeas, herbs, ferns and other green foliage. Fruit-bearing vines such as raspberries without thorns and unripe strawberries are showing up in bridal bouquets. Reception centerpieces are showcasing tiny pears, baby apples, other seasonal fruits, mini heirloom tomatoes and other petite vegetables.
Current seasonal trends include the incorporation of ferns, foxgloves, acorns, oak leaves and moss with blowsy seasonal florals for autumn wedding ceremonies. Ivory, cream and pale blush flowers with green or gray foliage like Dusty Miller are going to be popular for winter weddings. Rosemary and eucalyptus are scented winter favorites.
So how are these floral arrangements being presented? For one, vintage bottles and jars are being used to display table arrangements. Another way is that indoor forest displays, flower walls, arching branches with leafy greenery, vines and other appealing foliage are being employed to bring the feel of the outdoors inside.
Wearable florals are high on the list of brides-to-be in 2015. Floral crowns are made of delicate garlands and florals. Flower-adorned hair combs, clips and pins are being worn frequently.  Flowers in jewelry and more elaborate floral wristlets instead of traditional wrist corsages is also an expected trend.
There is a perfect floral selection for every bride based on personal discrimination or for the season in which the happy occasion will take place. As you can see, there are many ways to include flowers into the dream wedding. For cost savings, use faux flowers and only integrate real flowers intermittently for natural scent.