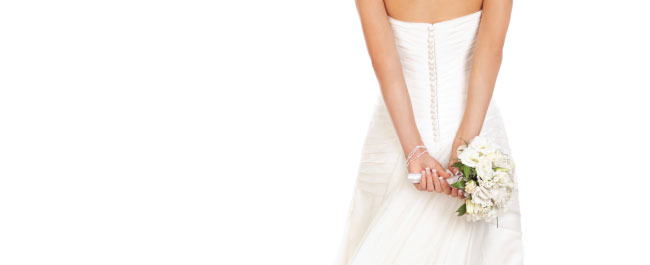 2015 Bridal Dress Trends
This year's bridal fashion trends include everything from warm and cozy styles to non-traditional fabric assortments. A new color has also arrived in bridal dresses for 2015. Exposing more skin is not out of the question either. So if you're looking for something that defines you better than traditional bridal attire would, you have chosen the right year for a wedding.
Going sleeveless is the most popular choice for many brides-to-be. Many are choosing shoulder streamers, shoulder caps, draped shoulder beading and spaghetti straps that add flirty, decorative support without compromising the sleeveless affect.
As mentioned earlier, exposure is quite the sexy rave this year. Besides sleeveless, brides are wearing dresses with long slits that expose the full length of the leg, backless wedding dresses, waltz-length wedding dresses that stop mid-calf and two piece dresses exposing midriffs.
The 2015 runways have also exposed more non-traditional fashions. Some of this year's wedding revelations involve dusty blue dresses and dresses flowing with gracefully cascading tiers, while other dresses even include party fringe. Going beyond traditional lace and silk expectations, the bride-to-be can also choose a dress made with leather, shimmering stardust lace, puckered jacquard, or cotton pique.
As the cooler months draw nearer, a few brides are expected to choose dresses with long sleeves for their fall weddings. While some dresses provide full arm coverage, sheer sleeves with a hint of lace will likely complement a romantic wedding backdrop.  Sweater wedding dresses are also available for those ladies who will be married during the colder months of late fall and winter.
Regardless of your preference, the 2015 bridal fashions offer wedding dress selections for any bride-to-be. The new wedding tradition involves personal expression, and that's exactly what you'll find in this year's wedding fashions. Walk down the aisle in what best communicates you and your personality.
Want to learn more about dress trends? Visit one of our Pop-up Bridal Boutiques featuring some of Ottawa's hottest bridal boutiques. Try on dresses and find your dream dress at the show!