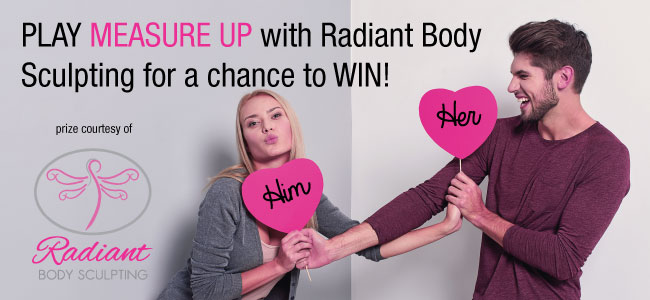 Play "Measure Up!" with Radiant Body Sculpting and you could WIN 9 (Nine) Zerona laser fat loss treatments for the bride and 9 (Nine) for the groom!
Total prize value is $2519.10!
Join us in the Reception Room at The Ottawa Wedding Show
Couples, Bridal Parties and Families are all welcome to Play!
Answer three questions about each other – and see if you measure up!
Those who Play Measure Up will receive 5 ballots for entry – those who choose not to play may still enter the prize draw at The Reception Room, with a single ballot entry.
Zerona® Laser treatments at Radiant Body Sculpting & Spa use safe and effective low level laser technology to emulsify unwanted fat, allowing it to secrete naturally out of the body. In as little as two weeks you can remove stubborn inches from your hips, waist and thighs. We guarantee you'll lose at least three inches.
There's no pain but plenty of gain when it comes to getting the body you want using Zerona technology available at Radiant Body Sculpting & Spa.
Terms and conditions to follow…